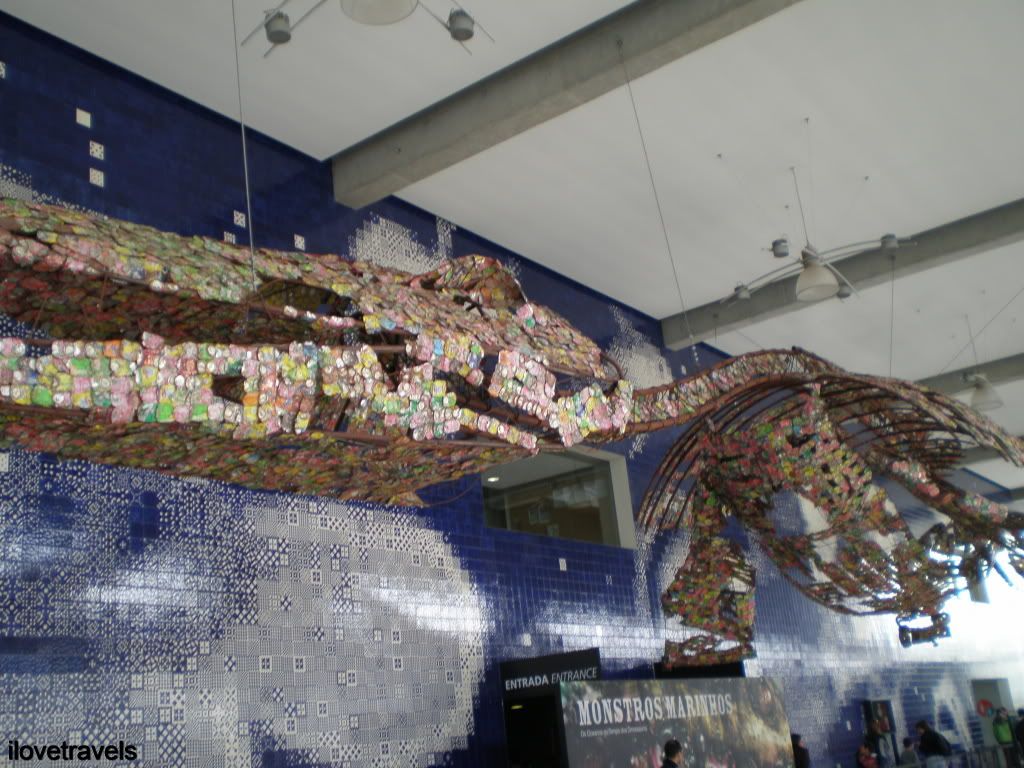 Oceanaruim entrance
Vasco Da Gamma tower
Expo 1998 has left behind a different face of the city, so different from everything that we've seen before. The futuristic architecture of Eastern Lisbon is a complete contrast to the old parts of the city. I don't think that's bad ofc, every major city in the world has shiny new built parts, however I find the old parts of the city much more charming. Of course, everything is worth seeing. Both the new and the old have their stories to tell.
First we decided to ride on a cable car to experience the surrounding from a bird's perspective.
The cable car constantly circulates starting from Parque das Nacoes to the tower Vasco Da Gamma.
Cable car
It rides parallel to the river and gives you some breathtaking views along the way. You can see many new attractions include a viewing tower, a marina, and a number of bars and restaurants with outdoor terraces overlooking one of the world's longest bridges.
There is also the Oceanarium, hailed as the world's most impressive aquarium. It's one of the world's largest aquariums.
It is a deep-sea diving experience without any of the risks, with about 25.000 fish, seabirds, and mammals in an enormous central tank that is the size of four Olympic-sized swimming pools.
Cute lazy sea otters
In the Oceanarium, we managed to pass through the different climates of the world, from tropical to cold and we saw all the animals that belong to each of those ecosystems. Through the thick glass you can look face to face with a shark. That was a really creepy experience even though I knew I was completely safe. I have to say the penguins were my favorite, I was surprised how small they are.
Penguins
I like watching various documentary films and somehow watching penguins on television, gave me the impression that they're a lot bigger than they actually are. Oh they are such cute little black & white creatures.
Besides these and other sights shopping lovers just can't miss the shopping center nearby that has lots of very known brands and merchandise. There is something for everyone.
With this I concluded my visit to Lisbon.
Five days is definitely not enough time to see this wonderful city, to enjoy its relaxed, gentle atmosphere.
Tropical part
We have seen a lot, but a lot is remained to be seen. I have a reason to come back.
So, goodbye to Lisbon!