Kranjska Gora
is a town and a municipality on the Sava Dolinka river in the Upper Carniola region of northwest Slovenia, close to the Austrian and Italian borders.
Kranjska Gora is best known as a winter sports town, being situated in the Julian Alps.
The municipality of Kranjska Gora is situated in the Upper Sava Valley, a typical Alpine valley.
Located at the far north west of Slovenia where the borders of Slovenia, Austria, and Italy meet, the valley is embraced on the north and south by the towering peaks of the Karavanke Mountains and the Julian Alps. In the east its border runs just below the town Jesenice, where the valley opens up towards the Radovljica Valley, extending in the west along the water-shed between the Sava and Slizza rivers, just west of Rateče. In the north the Wurzenpass at Podkoren leads to Arnoldstein in Carinthia, in the south the Vršič Pass connects it with Trenta in the Slovenian Littoral region.
The Upper Sava Valley has an Alpine climate with its long, snow-abundant winters and shorter summers with moderate temperatures, easterly winds and sufficient rain to maintain the valley's greenery. The winter usually stays in the valley for between four and five months, and a blanket of snow usually covers the valley for just around four months. In winter, there are large differences between the sunny and shady slopes embracing the valley. The sunny slopes are accommodating to hikes and strolls, while the shady slopes retain a snow
blanket.
I was very lucky to welcome New Year in this beautiful place that I called the little gem of Slovenia. Although I'm not a skier and have no intention in my age to learn to ski for the simple reason the fear of breaking my bones, I love snow and all those nice things it brings. We were located in the very center of Kranjska Gora. Small private house in which they all tried to make us feel like at home. They succeeded!
We spent a wonderful time in the company of dear people and friends. Every day we went for long walks, excursions to nearby places, we spent time in conversations, games... time flew in a blink. Beautiful memories remained.
Ski slope
Ski slope
Ski slope
Mulled
wine
to
warm
Ski
school
for
kids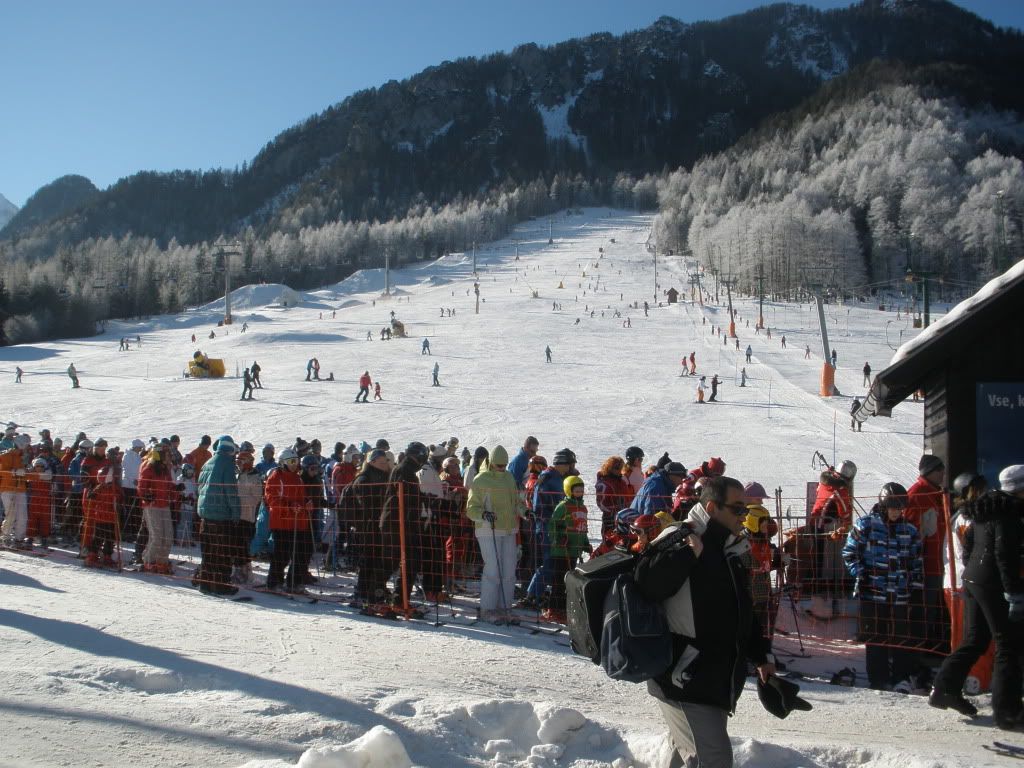 Ski slope
Ski slope